Aluminium windows and doors
Aluminium windows made by PKS okna represent a popular solution of windows in modern buildings thanks to their representative and variable look. The chamber profiling system with discontinued bridge suits classical and passive as well as low-energy buildings. The solid metal material is almost indestructible, and so the windows feature excellent shape stability, resistance to fires, weather effects and practically unlimited service life. Upon your request we will provide them with colour coating or wood imitating surface finish to look as much alike the house exterior as possible.
Aluminium is needful material used in manufacturing of windows, doors and walls. Modern look, variability, durability and resistance to weather effects made aluminium sections the most popular materials in modern architecture.
Aluminium window 86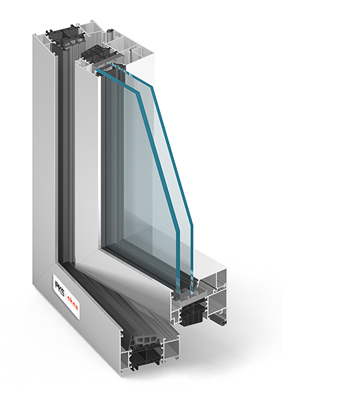 Aluminium window 86 represents an above standard solution for your house, as well as for an industrial or commercial facility. It is a solution for the most demanding customers having high requirements for e.g. heat passage, glazing, etc.
Basic parameters
| | |
| --- | --- |
| Building frame depth | 77 mm |
| Building leaf depth | 86 mm |
| Number of chambers | 3 |
| Number of seals | 2 |
Aluminium window 70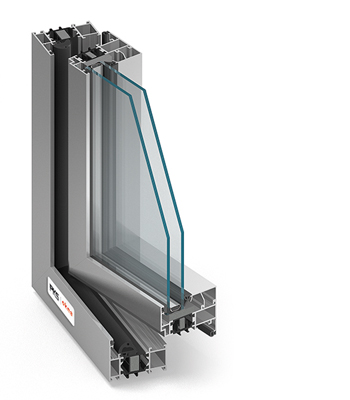 Aluminium window 70 represents a three-chamber solution with discontinued thermal bridge that is suitable in industrial structures as well as family houses - it is purely up to you where to install it.
Basic parameters
| | |
| --- | --- |
| Maximum glazing thickness | 60 mm |
| Building frame depth | 70 mm |
| Number of chambers | 3 |
| Number of seals | 2 |
Aluminium doors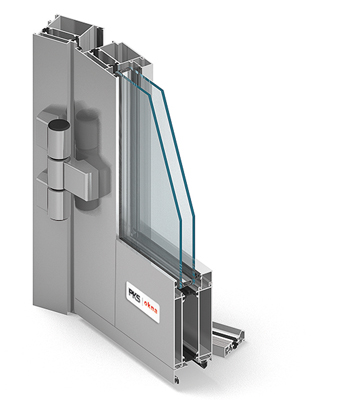 Entrance aluminium door is the first thing to see when the owner or visitor enters a facility. Entrance door made of aluminium is not only solid, resistant to weather effects and almost maintenance free, but serves also as a secure and representative entry to administrative or service buildings, family or residential houses.
We offer entrance aluminium doors in a wide spectrum of designs that always correspond with specific customer requirements as well as with the architectonic solution of the structure, whilst maintaining the maximum quality, functionality and aesthetics.
Entrance aluminium door in our offer:
Entrance aluminium door 60 (with discontinued thermal bridge)
Entrance aluminium door 70 (with discontinued thermal bridge)
Entrance aluminium door 86 (with discontinued thermal bridge)
As a matter of course, we offer a wide spectrum of door fitting types (handle - handle, handle - know, etc.), or accessories (mail slot, electric lock, self-lock, safety lock, extra lock, foot bolt, etc.). Enhanced safety of doors is ensured by, among other, the MUL-T-LOCK safety lock).
Colour scheme of windows and doors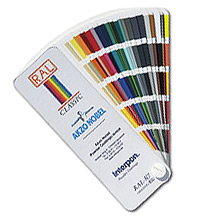 We offer all aluminium windows and doors in a broad spectrum of colour designs in RAL shade colours, or with a wood imitating surface finish.